When hunger strikes in the evening, it can be tempting to dig into a favorite snack. But some foods can interfere with a good night's sleep and have the potential to derail a healthful eating plan.
Here are a few snacks that won't disturb your sleep or your healthy diet:
Instead of potato chips, have some carrot sticks or fresh cucumber chunks. Seasoned, air-popped popcorn or a handful of nuts also make healthy, low-calorie evening snacks.
Craving something sweet? Try fresh raspberries, blueberries, strawberries and melon.
As an alternative to ice cream, fat-free yogurt or low-fat cottage cheese with fresh fruit like pineapple can satisfy your cravings.
Eating smaller, more frequent meals throughout the day also can help curb the desire to indulge in the wee hours.
Here are some good nighttime snacks:
If you crave sweet, try:
a piece of fruit
sugar-free ice pops
diet gelatin
If you crave chocolate, try:
8 ounces hot chocolate made with low-fat milk
8 ounces low-fat chocolate milk
8 ounces chocolate soy beverage
1 low-fat frozen fudge bar
1 serving low-fat chocolate pudding
If you crave salt, try:
3 cups air-popped popcorn with spray butter and a dash of salt
1 serving pretzels (sticks, twists, or rods, not the big sourdough kind)
½ ounce nuts (less than a serving, so you don't consume too many calories before bed)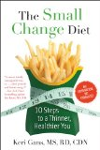 Continue Learning about Eating Habits and Nutrition