In transitioning from junk foods to healthier foods, it's helpful to identify a few foods that you don't have an addictive relationship with that you consider treats. Find foods that you don't want to keep eating and eating once you start. If, at any point, you discover that you can't stop eating them, eliminate them -- that is, if you want to be free of the addictive relationship.

When I want something a bit more interesting than protein, grains, and fruits and vegetables, I eat: low-fat, baked blue corn chips; small amounts of cheese; brownies that I make using bananas and carob instead of sugar and chocolate; popcorn; toasted whole-wheat pita pockets; peanut butter; raw almonds; frozen fruit (grapes, dark sweet cherries, oranges, bananas); dried, unsweetened apples or pears; or muesli that I make myself. I can eat these foods in moderation because they don't make me feel out of control.

How do you know whether you can have just a little bit of a treat food? If you can set a rule for yourself about it and stick to it, then it's a treat food you can moderate.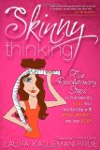 Instead of junk food, stock a variety of healthy snacks like these:
Baby carrots
A glass of soymilk or low-fat cow's milk
A hardboiled egg
Cut-up vegetables
An apple, orange, or banana
A small handful of raisins, nuts, or berries
A few healthy crackers
Small bowl of whole-grain cereal with low-fat milk
Low-fat, low-sugar yogurt
Applesauce
Popsicles made from 100% juice
A slice of whole-grain bread
Continue Learning about Eating Habits and Nutrition