One suggestion for a healthy afternoon snack for children is a combination of cheese and a variety of veggies. Together they provide a robust combination of nutrients. Cheese is an excellent source of calcium and protein, and veggies are vitamin, mineral, fiber, and phytochemical powerhouses. Since those ages 2 to 19 are not meeting the recommended servings of dairy and veggies daily, offering these as a snack combo provides a calcium-rich, high fiber, and nutrient-rich alternative to a less nutritious snack daily.
Dairy foods can be good sources of protein, calcium, vitamin D, vitamin A, phosphorus and some B vitamins. All of these nutrients play an important role in healthy bone development and growth in children. Snacks play an important role and should be thought of as "mini meals." They can fill the gap in nutritional intake of those foods that were not enjoyed at meals. Ideally, they should provide some carbs and protein. Here are a few examples:
Apple slices with peanut butter
Whole grain crackers with string cheese
Yogurt parfait (yogurt + berries + granola)
Fruit and cottage cheese
"Mini" pizza
Turkey + lettuce roll up
Here are some healthy snacks for kids:
Mott's Healthy Harvest fruit cups plus a small handful of nuts
Apples and peanut butter
Low-fat cheese sticks + carrots sticks
Homeade bagel bites made with low-fat cheese and veggies
Baked Cheese Quesadilla: Take a whole wheat soft taco shell and sprinkle it with some low-fat cheese. Place in oven and bake until crispy. Cool and serve with salsa.
Freeze some canned peaches for about two hours, including juice. Put in blender and puree. Serve with hard cooked egg or a low-fat cheese stick.
The end of the school day for most children means the beginning of sports practices, music lessons and homework. Be sure your child has the energy to stay focused with healthy afternoon snacks.
Serve after-school snacks with protein and carbohydrates to restore and provide your children with energy:
Trail mix combined with low-fat yogurt
A yogurt, fruit and peanut butter smoothie
Vegetables and hummus
Pretzels with peanut butter or hummus
Deli meat roll-ups made with lean meat and veggies on the inside
Cheese and fruit kabobs
Whole grain cereal, fruit and milk
To drink, give your kids low-fat or fat-free milk, 100% juices and water.
Continue Learning about Eating Habits and Nutrition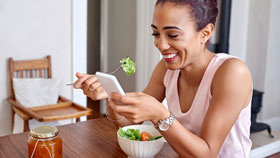 Three meals a day or five? That's only one aspect of the behavior known as eating habits. There is also the matter of style. Do you plan your meals or eat on the run - do you eat when you are happy, sad, or stressed - these are ot...
hers. Recognizing your eating style can help you work to achieve healthier eating habits.
More