Have a variety of fresh fruits and vegetables in your fridge. If you pick lots of bright colors, you are most likely to get a variety of nutrients. Bright colors, especially reds and greens, indicate high antioxidant content. Frozen fruits and vegetables, low-fat milk, yogurt, nut milks, reduced fat cheese, eggs (especially omega-3 enriched), egg whites and egg substitutes are great staples. Choose skinless chicken or turkey breasts, pork tenderloin and lean cuts of beef for healthy meat options.

Continue Learning about Eating Habits and Nutrition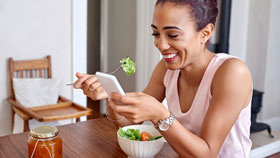 Three meals a day or five? That's only one aspect of the behavior known as eating habits. There is also the matter of style. Do you plan your meals or eat on the run - do you eat when you are happy, sad, or stressed - these are ot...
hers. Recognizing your eating style can help you work to achieve healthier eating habits.
More