Eating well-balanced meals will help you stay warmer during winter weather. Do not drink alcoholic or caffeinated beverages -- they cause your body to lose heat more rapidly. Instead, drink warm, sweet beverages or broth to help maintain your body temperature. If you have any dietary restrictions, ask your doctor.

The presence of the CDC logo and CDC content on this page should not be construed to imply endorsement by the US Government of any commercial products or services, or to replace the advice of a medical professional. The mark "CDC" is licensed under authority of the PHS.
Continue Learning about Eating Habits and Nutrition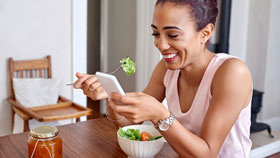 Three meals a day or five? That's only one aspect of the behavior known as eating habits. There is also the matter of style. Do you plan your meals or eat on the run - do you eat when you are happy, sad, or stressed - these are ot...
hers. Recognizing your eating style can help you work to achieve healthier eating habits.
More