Your vet has probably cautioned you not to give your dog table scraps. "Dog food is for dogs and people food for people." You shouldn't give your dog table scraps because it's not healthy for him -- he already gets enough nutrition and calories from his regular dog food. You wouldn't encourage your dog to jump up on your kitchen table and finish the scraps off of everyone's plates. Don't do the same thing yourself. The next time you're tempted to finish that half eaten candy bar leftover in your child's lunchbox, remember your dog and toss it in the trash. You probably wouldn't think about gobbling your dog's leftover kibble. Don't eat leftover human kibble either.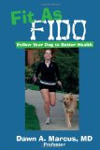 More About this Book
Fit As Fido: Follow Your Dog to Better Health
Let your dog teach you to live a happier, healthier, and more fulfilling life! Companionship with your pet can be used as a means and a motivator to increase your own physical and mental fitness....
Continue Learning about Eating Habits and Nutrition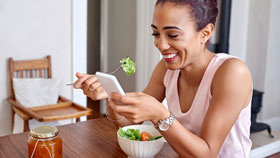 Three meals a day or five? That's only one aspect of the behavior known as eating habits. There is also the matter of style. Do you plan your meals or eat on the run - do you eat when you are happy, sad, or stressed - these are ot...
hers. Recognizing your eating style can help you work to achieve healthier eating habits.
More