While most of us have busy mornings with little spare time, it is important to prioritize and make time for breakfast -- even if it is something simple, or something prepared in advance the night before. Here are some ideas for quick and easy breakfast options:
At home: Healthy options include a smoothie; whole wheat toast or whole wheat English muffin and a slice of reduced-fat cheese; whole grain toaster waffles with peanut butter and banana; and whole grain cereal with fresh fruit and reduced-fat milk.
On the go: A granola bar that's high in protein (between 5-8 grams) and fiber (at least 3 grams) and low in sugar is a good choice. Other options: a single-serving-sized reduced-fat yogurt with a piece of fresh fruit (apple, orange, banana, pear, etc.); a single-serving-sized instant oatmeal in a cup (low in sugar) with a piece of fresh fruit.
At the local diner, deli or bodega: Scrambled eggs on whole wheat toast (ask for veggies in the eggs); whole wheat bagel with a small amount of light cream cheese and sliced tomato; whole wheat toast with a slice of cheese.
Breakfast can be very quick and simple. It does not require a lot of effort to prepare or cost a lot of money. Do you have five minutes for a bathroom break? Or one extra "snooze" when your alarm clock goes off? Then you have time for breakfast. Five minutes is all it really has to take. You can eat breakfast at home, in your office, or even on the run.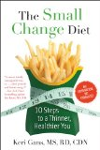 Continue Learning about Eating Habits and Nutrition