There are several minor changes you can make to your diet to improve your health. Eliminate the butter on those two pieces of toast you have each morning and substitute jam and you've probably eliminated about 100 unnecessary calories from your diet, or another 700 calories in a week.
And if you use skim milk on your cereal rather than whole milk—not a big sacrifice—you've just eliminated another 100 calories a day (per eight-ounce glass) from your diet. These aren't major dietary changes. In fact, you're eating just as much in quantity as you did before, so you're not really dieting at all. But you are eating more sensibly and losing fat.
These relatively minor dietary changes add up to a weekly reduction of 1,400 calories.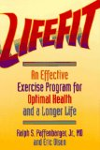 Yes, a singular item removed from your diet can help you to loose a pound a week just by eliminating one item. For instance I know a lot of people that consume six regular sodas or three large sodas a day. There are at least 500 calories from soda per day—cut that out alone and there is a pound a week. Add some exercise and for about two pounds per week without changing your diet at all.
Same goes for alcohol. If someone has a few beers a day and a number on the weekend, there is a pound a week right there.
You do not need to drastically change your diet, you need to pick the most caloric, non nutrient dense foods and either eliminate or cut back on those few things. It will make a remarkable difference.
Another important tip is substitute empty foods for nutrient dense foods. For instance, substitute juice for whole fruit. Soda for water or non caloric beverages. Canadian bacon for bacon. I think you get the idea.
Shift how you shop for foods, focusing more on fresh, whole foods. And if buying packaged foods, aim for the ingredient list to help you choose. The shorter the list, the better. Another tip that is hopefully not too overwhelming: Remove anything artifical from your diet, as in flavors, colors and sweeteners!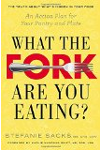 More About this Book
What the Fork Are You Eating?: An Action Plan for Your Pantry and Plate
It's labeled "natural," "grass-fed," or "free-roaming;" yet it might be anything but. It's time to find out what you're actually eating... When your groceries are labeled "low-fat," "sugar-free," and even "natural" and "antibiotic-free," it's easy to assume that you're making healthy choices. Yet even some of those seemingly wholesome offerings contain chemical preservatives, pesticides, and artificial flavors and coloring that negatively affect your health. In What the Fork Are You Eating?, a practical guide written by certified chef and nutritionist Stefanie Sacks, MS, CNS, CDN, we learn exactly what the most offensive ingredients in our food are and how we can remove (or at least minimize) them in our diets. Sacks gives us an aisle-by-aisle rundown of how to shop for healthier items and create simple, nutritious, and delicious meals, including fifty original recipes.
Adding fiber rich foods to your diet can improve your overall health and help keep you at a healthy weight. Foods high in fiber take longer to digest so you feel fuller longer, which ultimately leads you to eat less throughout the day. In addition, eating a diet rich in fiber reduces your risk of cardiovascular disease, adult onset diabetes and certain forms of cancer.
Try incorporating these high fiber foods in your diet: Fresh fruit (berries have the highest fiber content), vegetables, whole grains and beans.
Following are some small changes you can make to your diet to improve your health. These are tips from the National Institutes of Health (NIH) to help you make healthier food choices every day:
Keep healthier snacks, such as fruit and vegetables, at home and at work.
Pack healthier lunches for you and your family.
Choose low-fat dairy products.
Eat whole-grain cereals, breads, crackers, brown rice, pasta or oatmeal.
Select lean meats and poultry.
Choose more fish, beans, peas, nuts and seeds as protein sources.
According to the Academy of Nutrition and Dietetics and the American Diabetes Association, eating a healthier diet is one of the first lines of defense in the prevention of type 2 diabetes and heart disease. Additionally, research by the NIH shows that following a healthier diet can help prevent high blood pressure and may lower blood pressure that is already over the normal range.
Trinity Health is a Catholic health care organization that acts in accordance with the Catholic tradition and does not condone or support all practices covered in this site. In case of emergency call 911. This site is educational and not a substitute for professional medical advice, always seek the advice of a qualified health care provider.
Continue Learning about Eating Habits and Nutrition