We know that normal stomachs empty at a standard rate of about halfway emptied (T1/2) between 20 to 50 minutes.

If your stomach empties slower than normal, a possibility if you either feel full early in a meal (called "early satiety") or regurgitate food material over an hour after consumed, the cause includes a narrow pyloric channel (the opening between the stomach and small intestine) or a condition called gastroparesis.

Continue Learning about Eating Habits and Nutrition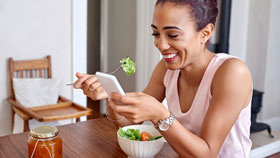 Three meals a day or five? That's only one aspect of the behavior known as eating habits. There is also the matter of style. Do you plan your meals or eat on the run - do you eat when you are happy, sad, or stressed - these are ot...
hers. Recognizing your eating style can help you work to achieve healthier eating habits.
More