Lack of sleep can cause hunger. Too little sleep causes an increase in the secretion of the hormone ghrelin. Ghrelin is your primary hunger hormone that alerts your brain to hunger.

Thirst is often confused with hunger. The side effects of thirst are the same as hunger (or low blood sugar): weak, tired, shaky.
Things that may cause excessive hunger include:
Skipping/delaying meals
Not adding carbohydrates during your meal times
Not eating before and after your workouts
Not sleeping enough
Stressful day at work and not eating a balance diet
Hunger hormone ghrelin triggers hunger. You can control ghrelin by making sure you eat throughout the day. I normally recommend my clients eat every 3-4 hours and to make sure to include protein and healthy carbs when eating.
For example, if you eat a salad, add chicken, fish, or tofu (protein) as well as a healthy whole grain such as brown rice, quinoa, or beans (carbs). Use this technique when snacking too. Try an apple (carb) and some string cheese (protein).
Continue Learning about Eating Habits and Nutrition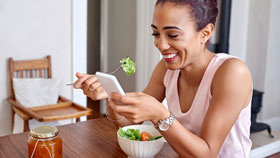 Three meals a day or five? That's only one aspect of the behavior known as eating habits. There is also the matter of style. Do you plan your meals or eat on the run - do you eat when you are happy, sad, or stressed - these are ot...
hers. Recognizing your eating style can help you work to achieve healthier eating habits.
More