Ideally, eat food such as raw nuts and fruit over any packaged item. This is not always possible. When looking at the nutrition facts on an energy bar, keep the sugar below 10g and the fiber above 3g. Ideally, if there is some protein in the bar, that will be great. You want to feel satieted and stay full for about 2 hours, not have a high and crash from too much sugar.
We encourage our barre3 clients to choose energy bars that are made from all natural ingredients. Stay away from bars that contain words you cannot pronounce or can assume are chemical based. LARA bars are my favorite. Most only have two to three ingredients such as dates, coconut, and cashews.
Continue Learning about Eating Habits and Nutrition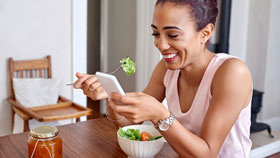 Three meals a day or five? That's only one aspect of the behavior known as eating habits. There is also the matter of style. Do you plan your meals or eat on the run - do you eat when you are happy, sad, or stressed - these are ot...
hers. Recognizing your eating style can help you work to achieve healthier eating habits.
More