Children are unable to meet all of their nutritional needs by eating only 3 meals/day. To adequately meet their needs, they need regular meals and snacks. Snacks should be thought of "mini meals" and help fill the gap of nutrients that might otherwise be missed. Sample snacks can include:
crackers + cheese
apple slices + peanut butter
carrots + hummus
yogurt parfait
Somewhere along the line, snacks got a bad rap. Perhaps it was the constant warning "No snacking between meals, it'll ruin your appetite!" that caused it. Certainly, munching on too many cookies can cause kids to lose their appetite for meals.

However, when chosen wisely, snacks can provide another opportunity for kids to get the nutrients they need. When your kids are young, they need smaller portions of food more often since their stomachs are pretty small. The trick is to make sure that snacks pack as much nutritional punch and fiber as possible without adding a lot of saturated fat and calories.

Small snacks can also be an effective way to reduce destructive eating behaviors such as overeating. Snacks help children stave off excessive hunger, so they don't become ravenous and reach for junk food instead of healthy alternatives. On the other hand, your child should not be snacking so much that she's not hungry for meals.

Establishing set snack times will help avoid what may be called emotional eating: snacking because one is bored or stressed.

Make it as easy possible for your child to reach for that cut-up fruit and yogurt instead of the bag of chocolate-chip cookies. If healthy snacks are as convenient as the high-sugar, high-fat ones, you'll encourage healthy snacking behavior.

From Good Kids, Bad Habits: The RealAge Guide to Raising Healthy Children by Jennifer Trachtenberg.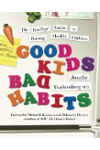 Continue Learning about Eating Habits and Nutrition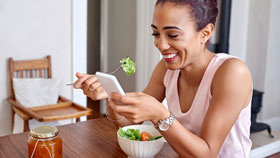 Three meals a day or five? That's only one aspect of the behavior known as eating habits. There is also the matter of style. Do you plan your meals or eat on the run - do you eat when you are happy, sad, or stressed - these are ot...
hers. Recognizing your eating style can help you work to achieve healthier eating habits.
More