The benefits are you can eat more...more often that is! When you graze (eat every 2-3 hours) you tend to eat smaller portions because you don't feel as hungry. Always start the day with a healthy breakfast, which is what it says (breaking the fast). Then have a snack midway in between your breakfast and lunch. Again, after your lunch before your dinner. A small snack before bed is also acceptable. You want these snacks to be about 200 calories or less. If you keep these five to six snacks/meals small, your body will adjust to this and eventually you will feel fuller on less food.
Continue Learning about Eating Habits and Nutrition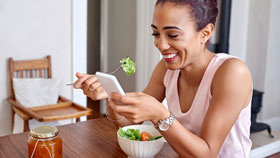 Three meals a day or five? That's only one aspect of the behavior known as eating habits. There is also the matter of style. Do you plan your meals or eat on the run - do you eat when you are happy, sad, or stressed - these are ot...
hers. Recognizing your eating style can help you work to achieve healthier eating habits.
More