Healthy weight, lower blood pressure, heart healthy lipid profiles, less diabetes, stroke and some types of cancer.

Looking better and feeling better tops the list. You'll serve as a role model for your children, friends and family. Better attendance at work or at school is a probable outcome. Less sickness and less irritability usually occur.
There are many benefits of healthy eating!
Reduced risk of many diseases such as, stroke, some cancers, diabetes, high blood pressure
Increased energy and feeling of wellbeing
Less risk of being overweight
Healthy eating means choosing a variety of foods each day to provide the goodness our body needs. Myplate.gov provides information on healthy food choices and portion sizes.
It's never to early to start and providing children with a healthy diet from a young age will positively influence their longterm health. It's never to late to start either! Certain conditions can be corrected by improving the health of your diet, such as, lowering cholesterol which in turn can improve heart health.
The following are benefits of eating healthy:
It helps you maintain your weight -- or lose weight, if you need to. When healthy eating is part of your regular lifestyle, it can be enjoyable -- not an exercise in denial. Learning to make good food choices -- every day -- adds up to better health. So be creative. Try new foods and flavors.
It protects your physical health. A steady diet of junk food -- or even just an imbalanced daily diet -- can clog your system and zap your energy. But regular, nutritious eating helps prevent and treat many different diet-related health problems, including the following:


High blood pressure
Diabetes
Heart disease
Bone disease

It promotes overall well-being. Health is about body, mind, and spirit. By making wise food choices throughout each day, you'll find that you:

Sleep better
Have more energy overall
Stay on a more even emotional keel
Eating well is good for you in a number of ways. It can help you to lose weight if you need to, pump up your energy levels, and increase your overall sense of well-being, not to mention decrease your risk of developing illnesses including diabetes, cancer, heart disease, and stroke. And healthful eating habits, in combination with physical activity, can help you look a lot better, too -- not just your figure, but also your hair, skin, and fingernails.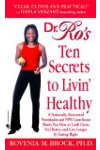 More About this Book
Dr. Ro's Ten Secrets to Livin' Healthy
In this one-of-a-kind book, Dr. Rovenia M. Brock—known as Dr. Ro™ to fans of Black Entertainment Television's Heart & Soul—reveals practical, satisfying ways for African American women to eat...
Continue Learning about Eating Habits and Nutrition