In baked desserts, use 100% whole wheat flour for 1/2 the flour, decrease or eliminate the salt and decrease the sugar by 1/3 to 1/2. Substitute unsweetened applesauce for the fat. Use skim milk in recipes calling for milk. If on a low cholesterol diet, use egg substitutes instead of egg.

Try yogurt parfaits, layer yogurt and fresh fruit. Top with a small amount of cereal or wheat germ. Fruit smoothies, made with equal parts of skim milk, lite vanilla yogurt and fruit are filling and nutritious.

Graham cracker crusts can be made with a very small amount of soft spread margarine. No added sugar is necessary.
Try topping a ½ cup serving of ice cream with ½ cup of low calorie berries. The high fiber berries will provide bulk and satiety, or that feeling of fullness, for fewer calories than a second scoop of ice cream. Buying pre-portioned bars of dessert can also help control calories as long as you don't go back to the freezer for another bar.

For 12 Frozen Desserts for Less than 120 Calories, please visit my blog at:

http://www.boston.com/lifestyle/health/blog/nutrition/2012/07/12_frozen_desserts_under_120_c.html
Desserts and sweets can be healthy for you, if they are made with natural ingredients like whole grains, fruit, nuts/seeds, and even beans. Watch family physician and author Joel Fuhrman, MD, explain how to make healthy desserts and sweet treats.
The healthiest dessert choice is fruit. Baked apples, poached pears, grilled fruit, or berries topped with whipped cream are all easy to prepare healthy dessert choices. Best bets to make your favorite desserts is to modify the ingredients. Instead of a flour crust for pie, use a graham cracker crust. Use egg substitute or egg whites in place of whole eggs and lower fat dairy products when cream, whole or 2% milk is called for in a recipe. Flour based dessert recipes can be replaced with half whole wheat flour for a healthier four mix.
A small portion of a favorite -- say, one-fourth cup ice cream with fruit, one small piece of dark chocolate, two small cookies, or a thin slice of angel food cake is a healthy dessert option. For a yummy sweet treat that's full of protein, not fat, whip a little low fat ricotta cheese with a whisk until it's light and mousse-like, then stir in lots of frozen mixed berries. Add a drizzling of agave nectar (you'll find this in the sugar and baking aisle at the market; it's sweeter than honey but has a more liquid consistency and won't spike your blood sugar as severely as honey can).

From The Mind-Beauty Connection: 9 Days to Less Stress, Gorgeous Skin, and a Whole New You by Amy Wechsler.
Here is a healthy dessert recipe:
Blueberry or Fruit Cobbler
4 cups blueberries or other fruit
1 cup flour(preferably whole wheat)
1/2 tsp baking powder
1 cup sugar or splenda
1/4 c egg substitute or 1 egg
Spray medium baking pan and spread fruit on the bottom. Mix dry ingredients and add egg. Spread mixture over fruit. Dot with tub margarine. Bake at 375 degrees for 45-50 minutes. Serve warm with low-fat frozen yogurt.
Try these easy and healthy dessert options:
Bake or broil apples and pears with cinnamon, nutmeg and vanilla.
Grill pineapple, peaches or plums and top with a little frozen yogurt or ice cream for a delicious and simple summertime dessert.
Make a crisp or cobbler using fresh cherries, peaches or pears. Instead of the typical high fat crust or streusel, use an oat and almond or walnut topping for added fiber and heart-healthy fats.
Beat the heat with a fresh fruit granita, melon sorbet or frozen 100% fruit pop.
Frozen yogurt in small quantities can be healthy. Instead of candy or cookies, top with fresh fruit or nuts.
Freeze a banana and drizzle with a small bit of dark chocolate for a decadent tasting dessert.
Enjoying a healthy dessert may be as easy as picking up a piece of fresh fruit -- it can truly cure a sweet tooth.
One healthy dessert is the old stand by of fresh fruit. Other options include desserts that are lower in fat such as fat-free frozen yogurts, (which can be made into ice-cream pies), sugar-free gelatin desserts, frozen sorbets or Italian ices. Baked good recipes can always be modified to make dessert items healthier.
Continue Learning about Eating Habits and Nutrition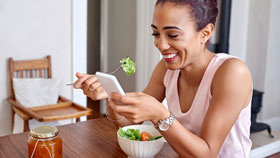 Three meals a day or five? That's only one aspect of the behavior known as eating habits. There is also the matter of style. Do you plan your meals or eat on the run - do you eat when you are happy, sad, or stressed - these are ot...
hers. Recognizing your eating style can help you work to achieve healthier eating habits.
More