Snacks are great, because they help you feel satisfied all day, which can also help you to eat less when it's time to have a meal. In this video, "Hungry Girl" author Lisa Lillien shares some of her favorite 100-calorie snack ideas and recipes.
My favorite heatlhy snacks are fresh oranges and other fresh whole fruit, unsalted nuts, and graham crackers with natural peanut butter.

When I eat nuts, I measure 1/4 cup so I'm not tempted to eat more. I like to toast almond slices in the toaster oven prior to eating. They smell so good!

A great, whole-grain, low-calorie snack is hot air popcorn without salt or butter. A 1/4 cup measure of kernels makes 2 cups of popped product. . . and that's all 1 serving!

Low-fat yogurts and fresh colorful vegetables are always great choices.

Smoothies made with 1/2 cup skim milk, 1/2 cup lite yogurt and 1/2 cup of fruit are great choices.

For a treat, I buy the small "single" servings of low fat ice cream and eat half of it.

Nuts, natural peanut butter and yogurt are filling and keep me from eating more until the next meal!

If you like to eat a lot at snack time, you should choose lots of healthy fruits and vegetables! In this video, weight loss specialist Caroline Apovian, MD, suggests some great snack ideas you can make with fresh fruits and vegetables.
Remember to only snack when you are hungry. A great snack includes a small portion of a protein and carbohydrate food for lasting energy. Here are a couple of simple snack options:
Graham crackers and low fat milk or yogurt for dipping
A whole grain tortilla with peanut butter or almond butter and sliced banana
Instant oatmeal with Greek yogurt and berries
String cheese with grapes
Trail mix with soy nuts, almonds, and whole grain cereal
Apple slices spread with a nut butter
Think of a healthy snack as a mini meal (one that includes protein and carbs); portions should be smaller than at breakfast, lunch, or dinner. And chances are that this mini meal is not going to be found in the vending machine.
Here are some snack tips:
Limit a snack to approximately 200 calories maximum.
Turn coffee or tea into a snack by adding a cup of low-fat milk or soymilk.
Do not have a carbohydrate alone (such as an apple or a serving of crackers); you will still be hungry. Instead, pair a carb with a lean protein or healthy fat. Have low-fat cheese with your apple, or some peanut butter on your whole grain crackers.
It's okay to have carbs alone before bed (such as a piece of fruit) because it doesn't need to keep you full—you're about to go to sleep.
Don't double dip. For instance, don't do string cheese and nuts, or string cheese and yogurt. Instead, choose one high-fiber carb and one lean protein or healthy fat; otherwise your calories (and fat) can add up.
When you eat straight from the bag, box, or can, you'll consume more. Preportion items like nuts in resealable snack-size bags.
Try to keep snacktime to three hours after you have eaten. If you eat it too close to your last meal, it won't do its job for the next meal.
If buying an energy bar, read the label and look for more fiber and protein, less calories and fat.
Just because it's a "100-calorie pack" doesn't mean it is a healthy snack. Make sure it offers some fiber and protein or healthy fat -- and if not, skip it.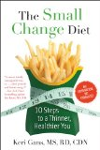 There are lots of healthy snacks, some already recommended by Dr. Oz. Health food stores are a good option when looking for such items. A rule of thumb in regular supermarkets is to go around the perimeter of the store and seek out healthier items and avoid the aisles and all the processed foods and foods with harmful ingredients.

Regular supermarkets can be lethal for your health! To protect yourself you can even buy books with a listing of items and look up what you are not sure about. But specifically seek out "ORGANIC" products which are being carried now more and more even in regular supermarkets, not just health food stores.

One particular company has created a theme of KINDNESS around all of its healthy bars which "fill you up, not out." KIND bars can be purchased online and auto shipped at a significant discount even beyond that in stores like Trader Joe's.

HAPPY SNACKING!
Healthy snack options are foods that are nutrient dense and calorie poor. They will recharge your body and give you energy and important nutrients without packing on the pounds. To be considered a snack they should be less than 200 calories, as we are not talking about a meal. They are usually consumed mid morning and mid afternoon in between your breakfast and lunch and lunch and dinner and sometimes in conjunction with exercise.
Some of my favorites are:
Protein shakes or bars
Healthy unsalted nuts or my homemade trail mix which uses unsalted nuts and seeds and dried fruits with no added sugar
Apples with natural peanut butter
Greek yogurt with fresh fruit
Homemade healthy baked goods
Air popped popcorn with spices
Artic zero ice cream, made from protein and fiber
Think about your snack like you would a balanced meal: try to include a little bit of protein and/or fiber to ensure that your snack satisfies your hunger. Some of my go-to recommendations include:
Part-skim mozzarella cheese sticks with red grapes
Low-fat cheese rounds or cheese wedges with whole wheat crackers or rye crispbreads
Apple slices with all-natural peanut butter (i.e. without hydrogenated oils)
Homemade trail mix with dried fruits, nuts and seeds
High fiber granola bars
Non-fat plain Greek yogurt or cottage cheese with your own fruit topping
Sliced peppers, carrots, celery dipped into hummus
Rolled up fresh slices of nitrate-free lean deli meats
Focusing on these whole foods snacks will help fill your hunger gaps in between meals without leaving you bloated or in an energy slump like many processed and packaged foods do.
Sushi rolls make a great snack and are a good tasty alternative to traditional snacks.
Here are some popular options (for those without diet restrictions):
3 Spicy Tuna rolls --145 calories
3 Salmon and avocado rolls --152 calories
3 California rolls --127 calories
3 Avocado rolls --70 calories
If you aren't into sushi-try:
1oz turkey or chicken lunch meat wrapped around 1 low-fat cheese stick --125 calories
8 Shrimp cocktail + cocktail sauce --100 calories
(Calorie amounts are approximate)
I am a big fan of hummus. It takes less than 5 minutes to make, and its creamy texture never fails to fill my craving for dip. Use carrots as the dipper, and you've got an amazingly nutritious snack.
You want to diet smart, not hard. Part of that is having single-serving nutritious snacks on hand at all times to prevent a diet slip. Try substituting your favorite snack foods with healthier alternatives like wasabi peas, soy nuts, frozen grapes, blueberries and dried pineapple (
not
the kind coated in sugar!)
This content originally appeared on
doctoroz.com
Continue Learning about Eating Habits and Nutrition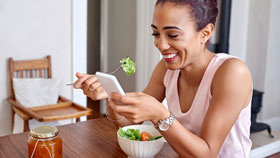 Three meals a day or five? That's only one aspect of the behavior known as eating habits. There is also the matter of style. Do you plan your meals or eat on the run - do you eat when you are happy, sad, or stressed - these are ot...
hers. Recognizing your eating style can help you work to achieve healthier eating habits.
More