Essentially, a potato chip is born of a deep-fried vegetable, so veggie chips are no better than regular chips. A small bag of vegetable chips can have about the same amount of calories (150) and fat (9 grams) as a small bag of chips. In addition, manufacturers mask potato or corn flour-based chips with food coloring to pass them off as veggie chips.
This content originally appeared on
doctoroz.com
Continue Learning about Eating Habits and Nutrition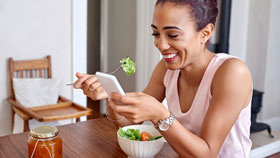 Three meals a day or five? That's only one aspect of the behavior known as eating habits. There is also the matter of style. Do you plan your meals or eat on the run - do you eat when you are happy, sad, or stressed - these are ot...
hers. Recognizing your eating style can help you work to achieve healthier eating habits.
More