It doesn't matter what time of the day you eat for weight loss. Whether most of your 1,500 calories are consumed in the morning or early afternoon time or if the majority of the 1,500 calories are consumed late afternoon to late night. Your digestive system will digest food the same way and it will not affect your resting metabolic rate (RMR) either way. So if you are eating five hours before going to bed or eating most of your food the first six hours of the day, your metabolism is not affected.
Continue Learning about Eating Habits and Nutrition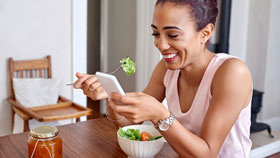 Three meals a day or five? That's only one aspect of the behavior known as eating habits. There is also the matter of style. Do you plan your meals or eat on the run - do you eat when you are happy, sad, or stressed - these are ot...
hers. Recognizing your eating style can help you work to achieve healthier eating habits.
More