A snack is an opportunity to continue fueling your body properly and to prevent you from making a disastrous food choice at lunchtime or dinner. I usually recommend that my patients include one snack between breakfast and lunch and one snack between lunch and dinner.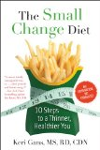 Snacks can be part of a healthy eating plan if chosen correctly both in type of snack and portion size of snack. Snacking offers a great time to get more of the needed vitamins, minerals or nutrients you may have missed at meal time. For children and teens that are physically active, snacks may provide a supplement to their meals in order to get the calories and nutrition needed to build healthy bodies. For adults, a snack can provide an energy boost.
Yes, you should get in the habit of eating a mid-morning and mid-afternoon snack to help maintain a stable blood sugar between meals. Try to limit snacks to 100-200 calories depending on your daily caloric needs. It is important to eats snacks that include both protein and complex carbohydrates. Some examples include:
apple and raw almonds
1/2 banana and peanut butter
whole grain crackers and reduced fat cheese
grapes and low fat cottage cheese
blueberries, plain Greek yogurt and sliced almonds
small whole wheat tortilla and almond butter
Snacking is an important part of any diet. In this video, fitness expert Tony Horton, creator of the P90X fitness program, tells viewers how to snack the right way.
Whether or not you eat snacks depends on your weight and hunger level. Sometimes snacking is a great way to prevent extreme hunger which can lead to overeating. Snacking on the right foods can help keep your blood sugar stable and your metabolism high. Snacking is also a great way to work in nutrients you might otherwise not ingest. Whole grain crackers, low fat cheese, fresh fruits and vegetables, and lean protein and raw seeds and nuts all make great snacks. It is crucial to snack on the right foods because snacking on the wrong foods can actually lead to sugar cravings which in turn can lead to overeating. It always important to consider the calories taken in when snacking so you do not exceed your daily caloric needs.
Continue Learning about Eating Habits and Nutrition