The protein foods are measured in 1 ounce servings and the exact number of servings recommended for you is based on your caloric needs. A 1 ounce serving of protein foods is equal to 1 ounce of lean beef, poultry, pork, lamb or fish. There are three important tips when we are talking about protein foods:
Correct portion size makes a difference in your total caloric intake.
Choose lean cuts of protein foods such as round, tenderloin and flank.
Prepare your protein food using a low fat cooking method.
Fish can be eaten three to four times per week. One to two meals per week of beef, chicken, turkey, pork or lamb is acceptable. Each serving should be 3 oz cooked (about the size of a deck of cards).
Continue Learning about Eating Habits and Nutrition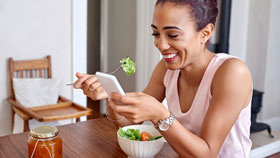 Three meals a day or five? That's only one aspect of the behavior known as eating habits. There is also the matter of style. Do you plan your meals or eat on the run - do you eat when you are happy, sad, or stressed - these are ot...
hers. Recognizing your eating style can help you work to achieve healthier eating habits.
More