Fullness comes from the type of food. Things high in sugar have a hard time filling you up and keeping you full. Stay away from high sugar foods with hi glycemic index. Your brain is the ultimate decision maker so picking foods you can have enough volume and will tell your brain you are full are the best.
Continue Learning about Eating Habits and Nutrition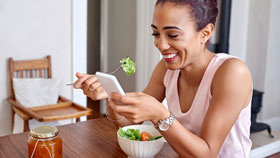 Three meals a day or five? That's only one aspect of the behavior known as eating habits. There is also the matter of style. Do you plan your meals or eat on the run - do you eat when you are happy, sad, or stressed - these are ot...
hers. Recognizing your eating style can help you work to achieve healthier eating habits.
More