Take away the thoughts of "good" and "bad" food. Ideally, you should intake foods that are nutrient-dense and will give your body energy, protein, good fats, vitamins and minerals. But give yourself a break once in a while. If you are really craving a less-healthy food, allow yourself to have a small amount of it. Try to slowly chew each bit and see if it was as good as you hoped. You can also try to make a healthier version. For example, when baking, replace the fat (butter/oil) with unsweetened apple sauce.
Dr. Lydie Hazan dispels the myth that eating fast food in small amounts is okay for teens. Watch this video from Discovery Health.


Continue Learning about Eating Habits and Nutrition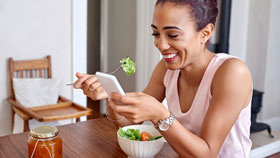 Three meals a day or five? That's only one aspect of the behavior known as eating habits. There is also the matter of style. Do you plan your meals or eat on the run - do you eat when you are happy, sad, or stressed - these are ot...
hers. Recognizing your eating style can help you work to achieve healthier eating habits.
More