Meal replacements have been shown to be extremely effective for weight loss, and in almost all cases more effective than dieting alone. They are generally used to replace one or two meals a day which then allows more flexibility for other meals. Meal replacements allow portion control and they help people track calories more accurately when compared to having to estimate the calorie content of other foods.
Continue Learning about Eating Habits and Nutrition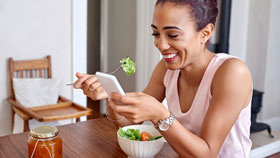 Three meals a day or five? That's only one aspect of the behavior known as eating habits. There is also the matter of style. Do you plan your meals or eat on the run - do you eat when you are happy, sad, or stressed - these are ot...
hers. Recognizing your eating style can help you work to achieve healthier eating habits.
More