Red meat. Meat is graded based on its fat content. Choose lower fat cuts such as Choice or Select rather than higher fat Prime. Ask the butcher to cut 4-ounce servings of raw meat (on cooking, they will shrink to a 3-ounce serving).

Luncheon meat. Look for lean or 95% fat-free meats (by weight) with 30–55 calories per once and 3 grams of fat or less per ounce.

Continue Learning about Eating Habits and Nutrition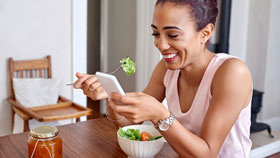 Three meals a day or five? That's only one aspect of the behavior known as eating habits. There is also the matter of style. Do you plan your meals or eat on the run - do you eat when you are happy, sad, or stressed - these are ot...
hers. Recognizing your eating style can help you work to achieve healthier eating habits.
More