Absolutely. Recommendations are to make half of your grain choices, whole grain. An easy way to get more whole grains in your diet is to choose at least one whole grain at each meal. Whole grain cereal combined with skim or 1% milk and a serving of fruit adds up to a great breakfast selection. If you need a quick to fix breakfast you can also make a yogurt parfait using a 1% or skim yogurt topped with a whole grain cereal and bite sized pieces of banana or berries.
Whole grain cereals are a fabulous, nutritious option for your breakfast. Americans, on average, are falling short of the recommended minimum three servings of whole grains foods daily. Starting your day with a whole grain cereal is an easy way to consume, one, if not two, servings of whole grains.

However, you should also limit the amount of added sugars in your morning cereal.

Watch this Fox25 TV segment to learn how to pick the best whole grain cereals:
http://www.myfoxboston.com/dpp/morning/healthy-breakfast-top-cereal-choices
In a study by Beth Israel Deaconess Medical Center in Boston, researcher Jinesh Kochar reported: "Those consuming seven-plus servings of whole-grain breakfast cereal each week had a 20 percent decreased risk of developing hypertension as compared to those who reported none, or rare, consumption.''

Continue Learning about Eating Habits and Nutrition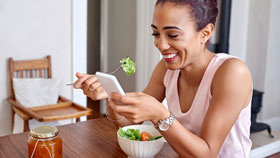 Three meals a day or five? That's only one aspect of the behavior known as eating habits. There is also the matter of style. Do you plan your meals or eat on the run - do you eat when you are happy, sad, or stressed - these are ot...
hers. Recognizing your eating style can help you work to achieve healthier eating habits.
More