My general rule is to avoid eating 2-3 hours before bedtime. So if you're going to bed at 10, that means your last meal should end at 7 or 8. You want your body to have time to start burning off those calories before you hit the hay. And many of us tend to eat the sweet and salty foods at night that can really add the weight. Plus, eating late at night forces your body and brain to be digesting instead of resting.
Continue Learning about Eating Habits and Nutrition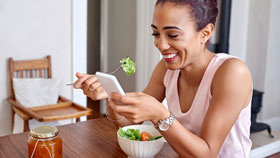 Three meals a day or five? That's only one aspect of the behavior known as eating habits. There is also the matter of style. Do you plan your meals or eat on the run - do you eat when you are happy, sad, or stressed - these are ot...
hers. Recognizing your eating style can help you work to achieve healthier eating habits.
More