Concerned that late-night snacking may be sabotaging your eating plan or other goals? Contrary to myth, late-evening calories are no more likely to promote weight gain than calories eaten at other times of the day, and it won't wake you up if you're sleepy. However, the problem with late-night snacking is when you're eating not due to hunger and may be eating more calories than you planned. A small snack to curb hunger late at night is okay, but it's important to listen to your body's hunger cues and avoid impulsive eating.
Continue Learning about Eating Habits and Nutrition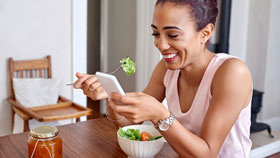 Three meals a day or five? That's only one aspect of the behavior known as eating habits. There is also the matter of style. Do you plan your meals or eat on the run - do you eat when you are happy, sad, or stressed - these are ot...
hers. Recognizing your eating style can help you work to achieve healthier eating habits.
More