You don't want to go to bed hungry; but our bodies were not designed to digest food lying down, so you don't want a full stomach either. Watch me share some bedtime snack ideas that can promote a better night's sleep.
Don't go to bed hungry. A calorie is a calorie -- whether you eat it with breakfast or before bed. It's a myth that food eaten before bed turns into fat. So don't be afraid to add a small, healthy snack in the evening.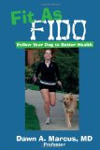 More About this Book
Fit As Fido: Follow Your Dog to Better Health
Let your dog teach you to live a happier, healthier, and more fulfilling life! Companionship with your pet can be used as a means and a motivator to increase your own physical and mental fitness....
There's a current debate on whether a calorie is in fact a calorie when it comes to late night eating. However, what you eat, how much you eat and how close that food comes to bedtime can have an impact on sleep quality and even the risk for acid reflux. Not to mention, it can be quite difficult to sleep if your stomach continuously growls of hunger.

The "rule" that you shouldn't eat anything after 7p is nothing more than a myth. The body doesn't lose its ability to burn calories at sundown. It is however a good idea to finish eating at least 2-3 hours before bedtime so that you get a good night's rest. This can also reduce the risk of heartburn which can occur if you lie down too soon after eating.

If you constantly find yourself eating late at night, re-examine your day. If it's unavoidable, stick with light options like a vegetable salad. Avoid the typical late night fare such as wings, pizza, burgers and fries. Be careful too with the chips, butter smothered popcorn and ice cream snacks that accompany time on the couch in front of the television.

I recommend against too much eating late at night for a few reasons:
Total calories -- Usually, the foods that you eat at night are high in calories, often empty ones that we wouldn't otherwise consume.
Eating late at night may also disturb your circadian rhythm, which could affect your appetite and metabolism
Large meals can cause heartburn when you go to bed. Foods that will cause blood sugar spikes and crashes (like sugary snacks) also can disrupt your sleep.
Also you know that caffeine can keep you up, but look for other sleep-stealing culprits as well, including alcohol and even chocolate, which contains caffeine.
Continue Learning about Eating Habits and Nutrition