A helpful way to consume 5 or less servings of added sugars is by paying attention to the ingredient list in the food label. The following ingredients are names for added sugars: High fructose corn syrup, corn syrup, corn sweeteners, dextrose, glucose, brown sugar, molasses, and evaporated cane sugar.

Choose water and less sweetened beverages; fruits as your desserts or opt for smaller portions.
Continue Learning about Eating Habits and Nutrition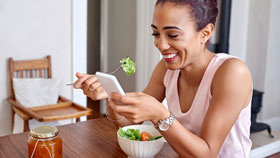 Three meals a day or five? That's only one aspect of the behavior known as eating habits. There is also the matter of style. Do you plan your meals or eat on the run - do you eat when you are happy, sad, or stressed - these are ot...
hers. Recognizing your eating style can help you work to achieve healthier eating habits.
More