Snacks should be mini meals. The following are some quick and easy recipes for snack under 60 calories:
Baked Apple --
55 calories per small apple
Core a small apple and place in a microwave safe bowl, sprinkle with cinnamon and sugar substitute; cook in microwave for approximately 2 minutes.
Pizza Popcorn --
48 calories per 2 cups popped popcorn
Use microwave popcorn that contains 15 calories per 1 cup serving popped. Prepare microwave popcorn according to the package directions. Sprinkle 2 cups of popped popcorn with1 Tablespoon of fresh Parmesan cheese and Italian Seasoning spice to taste.
Broiled Tomato --
40 calories per medium tomato
Core center of tomato and remove. Fill center of tomato with 1 Tablespoon of Parmesan cheese and sprinkle Italian Seasoning spice. Cook in microwave for 1-2 minutes.
Sugar free Gelatin with whipped topping --
18 calories per ½ cup
Prepare any flavor sugar free gelatin dessert. Once gelatin is firm, divide gelatin into 4 - ½ cup servings. Top with 2 ½ teaspoons of whipped topping.
Cinnamon Tea --
0 calories per cup
Boil 3 cups of water with 4-5 cinnamon sticks in a pot until boiling. Pour cinnamon tea into cups and serve. You can also pour the hot tea over iced cubes to make an iced cinnamon tea.
Think fruits, vegetables, whole grains, lean meat or substitute, and low fat dairy. Choose a serving of one or two of these for a snack. Examples include:
Fresh strawberries
Non-fat yogurt
Natural peanut butter on 1 slice of whole wheat bread
1 slice swiss cheese on 2 rye crisp crackers
Sliced turkey on 1/2 whole wheat pita.
Roasted unsalted nuts also make a great snack. Measure so that the portion is 1/4 cup or less.
Snacks can be deceptive. Some have lots of salt, and others are high in calories. Learn in this video about what's in your favorite munchies as Dr. Oz hosts a game show called Snack Smackdown.





Continue Learning about Eating Habits and Nutrition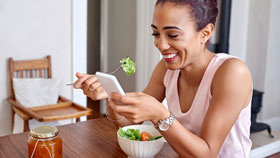 Three meals a day or five? That's only one aspect of the behavior known as eating habits. There is also the matter of style. Do you plan your meals or eat on the run - do you eat when you are happy, sad, or stressed - these are ot...
hers. Recognizing your eating style can help you work to achieve healthier eating habits.
More