Travel frequently on business? Just because you're eating away from home doesn't mean you can't eat like you are at home. These tips are just for you.
Nowadays, most airports offer healthier choices. Make them yours.
Buy water at the airport. Air travel is dehydrating.
If your hotel room has a minibar (which will be packed with junk food and alcohol), refuse the key.
If possible, book a hotel that has a gym. If you can't, pack resistance bands and a yoga mat, so you can do a quick workout in your room, or pack sneakers and go for a walk or run before or after your meetings.
If you'll be going straight to a business dinner from meetings, bring a healthy snack, like nuts or a granola-type bar to keep mid-afternoon cravings at bay.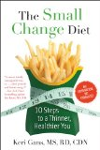 As a busy entrepreneur myself, I know how easy it is to let your health habits slip when traveling. But the stress of travel (even fun travel) can take its toll on the body and mind, so it's crucial that you stay healthy by maintaining -- and even increasing -- your health habits.
Drink more water. Double your water consumption when traveling - and make sure if you're flying you drink even more.
Don't skimp on fresh produce. On the road we often eat at restaurants and skip the fresh produce. Add a salad and side of fruit to EVERY meal. Stash portable fruit like apples in your travel bag. Stop at a grocery store and stock up on healthy snacks for your hotel room.
When traveling we are often cramming in a lot of activity into a condensed time period, making it difficult to squeeze in exercise. If this is the case for you, download one of the many exercise apps with workouts you can do using your own body weight in your hotel room. At the very least do some sit-ups, push-ups and planks to keep your body engaged.
Traveling can be fun and exciting but also hugely draining on your body. Keep it at tip-top shape for higher productivity on the job while away and long-term health when you return. And don't forget the hand sanitizer!
Continue Learning about Eating Habits and Nutrition