Sitting down to chew and eat a meal slowly will help digestion for the many of us who usually eat on the go and do not digest food very well. Most Americans eat in the car. In fact, 80% of car crashes involves some type of distraction, and food is considered one of the most leading distracters. When we sit down to eat, maybe have a little wine or bitter aperitif before a meal, and we take a whiff of the delicious aromas wafting from the kitchen, we stimulate production of our digestive enzymes, which is needed for all this food to be properly digested.
Continue Learning about Eating Habits and Nutrition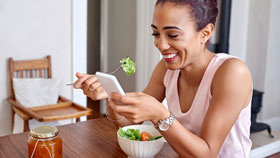 Three meals a day or five? That's only one aspect of the behavior known as eating habits. There is also the matter of style. Do you plan your meals or eat on the run - do you eat when you are happy, sad, or stressed - these are ot...
hers. Recognizing your eating style can help you work to achieve healthier eating habits.
More