Recognize that it is your responsibility as a parent to prepare and serve the food to your child and your child's responsibility as to how much he/she eats. Also realize that it can take anywhere from 10-20 exposures to a new food before developing a palate. After 3 failed attempts at introducing a new food take a break and try again in a few days/weeks. Encourage your child to enjoy a wide variety of foods, colors, textures and flavors by modeling eating behavior and leading by example.
It is not uncommon for a child to refuse to eat or want to eat the same thing every day. Your best option is to encourage your child to eat healthy foods, but allow him to choose what he wants from the food provided. It may take as many as 20 times for a child to see a new food before he tries it. Offer a few things that he likes and also encourage him to try small bites of a new food item. If he refuses to eat a food or meal, do not force or be too pushy. Forcing a child to eat may decrease his appetite. A child's appetite may be different from day to day, so it is important to be patient. Try to avoid phrases like "If you eat this I will give you this" and If you don't eat this you won't get this". Never punish or reward with food.
Continue Learning about Eating Habits and Nutrition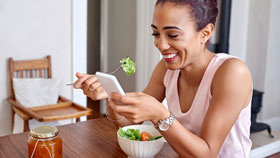 Three meals a day or five? That's only one aspect of the behavior known as eating habits. There is also the matter of style. Do you plan your meals or eat on the run - do you eat when you are happy, sad, or stressed - these are ot...
hers. Recognizing your eating style can help you work to achieve healthier eating habits.
More