Sensory adaptation is the tendency for sensory receptors to have decreasing responsiveness to stimuli that continue without change. This is why you stop smelling your own perfume or cologne, or those in the city get used to the sound of traffic. It also applies when eating; you get less and less pleasure from every bite of a food following the first bite, the introduction to a new flavor.

You can remember this phenomenon to remind yourself that the large bowl is not going to be more goodness, but rather more of something that is losing goodness, and manage your portion sizes. However, there is a positive spin to this phenomenon as well. You can use it when you are trying to have less of something or more of something in your diet. Just start and see if it gets easier. Especially, if you are busy with other things, you will likely be able to drink more and more water, noticing it less and less.
Continue Learning about Eating Habits and Nutrition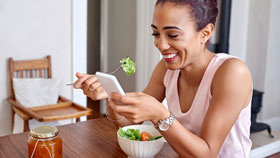 Three meals a day or five? That's only one aspect of the behavior known as eating habits. There is also the matter of style. Do you plan your meals or eat on the run - do you eat when you are happy, sad, or stressed - these are ot...
hers. Recognizing your eating style can help you work to achieve healthier eating habits.
More