Part of our healing requires us to stop glamorizing food by withdrawing some of our false projections onto it and false meanings we've given to it. A balanced relationship with food would be more like your relationship with toilet paper. Okay, I admit this is a crude analogy, but with both food and toilet paper, quality is important. They both fill a need (when you need it, you need it!), the experience of using them is quick, and most importantly, there's no need to think about them when you're not using them.

Take a moment now to notice any romantic thoughts you might have about food and ask if these projections are really true. Can food fulfill you and give you lasting pleasure? When you go without food and don't think about it, you see the truth: You really don't need food as a source of pleasure. Of course, you need it to survive, but you don't need to have a certain food at a particular time. When you don't think about food, you're free of it, and you see that you don't need to have a romance with it. Then, your relationship with it can become very practical and healthy.

Instead of dreaming about food like you might fantasize about sex, notice the pleasure in being alive, in performing simple everyday tasks, and in thinking about food in a practical way. The romantic relationship disappears as you see the complete truth about what food can and can't offer you. The way we think about food is the crux of our problems with it. If our romanticization of and longing for food go away, then our problem with food goes away.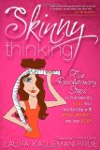 Continue Learning about Eating Habits and Nutrition