If you are an emotional eater, count on a relationship (or none) to impact eating! Dying to be in a relationship but no one is on the horizon? In a stressful relationship? Got a wedding (or some other big event) coming up for the two of you? You will be so stressed you cannot eat or so stressed you cannot stop! Either way, the relationship has an impact on your emotional impulses to eat or not eat.
The only way to change that is to be aware of it and subsequently:
deal with the stress; and/or,
make eating a conscious activity.
Keeping a food log will help you develop awareness of your intake -- high or low. Consciously plan what and when to eat over the day to make sure you get a nutritious, well-balanced diet. Each time you eat, aim for 3 food groups at a sitting. For example, Tuna over green salad with low or no fat dressing and croutons. Four food groups -- one dish -- totally portable!
I often speculate on how relationships contribute to weight gain. As someone who was once married, and is now single, I see that it is a lot easier to maintain a healthy weight while I am not in a relationship. Fact is, unless I go out to dinner with friends, I have to go out alone. That's not always interesting, so I don't fall prey to restaurant meals -- one of the biggest culprits in weight gain. In addition, eating is a social activity, and people with partners sit down and eat entire meals with them. As a single woman, I can have two slices of turkey and some tomatoes eaten over the sink and call that dinner without feeling guilty.
Continue Learning about Eating Habits and Nutrition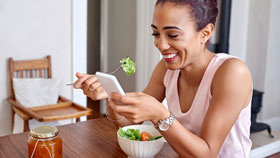 Three meals a day or five? That's only one aspect of the behavior known as eating habits. There is also the matter of style. Do you plan your meals or eat on the run - do you eat when you are happy, sad, or stressed - these are ot...
hers. Recognizing your eating style can help you work to achieve healthier eating habits.
More