Research has found that people given larger portions simply eat or drink more. For example:
People given larger portion sizes of food eat approximately 20% to 50% more, without reducing intake at later meals.
People eating soup from self-refilling bowls ate 73% more than those who ate from regular bowls.
Women given beverages 50% larger than those given to another group consumed 20% more; men consumed 33% more. There was no decrease in food consumed in this group.
This content originally appeared on
doctoroz.com
Continue Learning about Eating Habits and Nutrition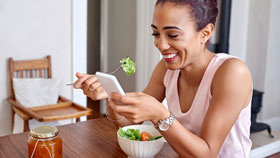 Three meals a day or five? That's only one aspect of the behavior known as eating habits. There is also the matter of style. Do you plan your meals or eat on the run - do you eat when you are happy, sad, or stressed - these are ot...
hers. Recognizing your eating style can help you work to achieve healthier eating habits.
More