Focusing on what we eat and being completely present means we're less likely to absentmindedly devour that half-eaten pint of butter pecan during an 11 p.m. freezer raid. We're less likely to overeat, but we can enjoy our food more. Mindfulness is a practice easier to write about than actually, well, practice. I recommend trying it for one meal every week -- simply be completely present and don't let digital or other distractions come near the dinner table -- and increase that mindfulness until it becomes a daily habit.
Mindfulness allows you to focus on what and how you're eating instead of on other things like stress, says Elissa Epel, PhD, a stress and obesity expert at the University of California, San Francisco. In this video, she explains.
Continue Learning about Eating Habits and Nutrition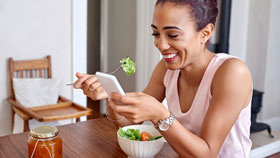 Three meals a day or five? That's only one aspect of the behavior known as eating habits. There is also the matter of style. Do you plan your meals or eat on the run - do you eat when you are happy, sad, or stressed - these are ot...
hers. Recognizing your eating style can help you work to achieve healthier eating habits.
More