Snacks continue to represent a larger portion of total calories consumed than ever before. Just this month, new research from the USDA reported that Americans are consuming about one-third of their total calories from "empty calories" in snacks foods -- meaning foods that are often high in sugar and fats but with little added nutritional value. The study found that men ages 20 and older are consuming an average of 923 calories a day from snack foods; for women, it's about 624 empty calories each day.
Continue Learning about Eating Habits and Nutrition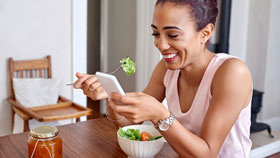 Three meals a day or five? That's only one aspect of the behavior known as eating habits. There is also the matter of style. Do you plan your meals or eat on the run - do you eat when you are happy, sad, or stressed - these are ot...
hers. Recognizing your eating style can help you work to achieve healthier eating habits.
More