Have you ever wondered how many calories are in that burrito you just ordered? Are you curious about that bowl of broccoli and cheese soup or tub of movie popcorn? Thanks to new regulations released from the U.S. Food and Drug Administration (FDA), you'll soon have more information about the items offered in restaurants and food-service establishments with 20 or more locations by November 15, 2015, when new FDA regulations go into effect. Health and nutrition experts say that while this added knowledge provides important weight-loss and health-maintenance tools, you should combine that calorie information with some diet wisdom: all calories are not created equal.
Continue Learning about Eating Habits and Nutrition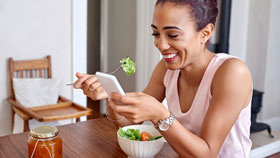 Three meals a day or five? That's only one aspect of the behavior known as eating habits. There is also the matter of style. Do you plan your meals or eat on the run - do you eat when you are happy, sad, or stressed - these are ot...
hers. Recognizing your eating style can help you work to achieve healthier eating habits.
More