Amid the morning craziness, breakfast often takes a back burner. That's unfortunate, since studies show a protein-rich breakfast can keep you full, fat-burning, and focused for hours. Short on time? Whip up a fast, healthy protein shake. Use non-soy, non-dairy protein powder, unsweetened coconut or almond milk, kale, avocado, frozen raspberries and freshly ground flaxseed. You'll get healthy fat, protein, antioxidants and fiber in less time than it takes to pour milk and cereal!
For you and your children, every excuse or barrier to eating a nutritious breakfast has a solution. Don't let these excuses stand in your way of starting your day with a good breakfast:
I'm not hungry in the morning." Start your day with a cup of 100 percent fruit juice or a piece of whole-wheat toast. Later when you are hungry, eat a mid-morning snack - a hard-boiled egg, low-fat or fat-free milk or yogurt, low-fat string cheese or a whole-wheat bagel.
"I don't have enough time in the morning." Stock your kitchen with easy-to-prepare foods such as breakfast cereal, instant oatmeal, small bagels, whole-grain toaster waffles, yogurt and fresh fruit.
"I'll gain weight." There is no evidence to support the belief that eating breakfast will make you gain weight. In fact, skipping meals has been shown to lead to overeating at snack time or the next meal.
"I don't like breakfast foods." Breakfast can be any food you like. A slice of pizza, bowl of soup, a lean-meat sandwich or leftovers all make a fine breakfast.
Think of breakfast as your body's morning refueling stop to get your day going the right way.
Continue Learning about Eating Habits and Nutrition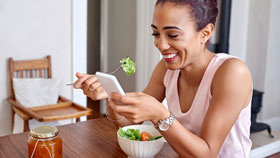 Three meals a day or five? That's only one aspect of the behavior known as eating habits. There is also the matter of style. Do you plan your meals or eat on the run - do you eat when you are happy, sad, or stressed - these are ot...
hers. Recognizing your eating style can help you work to achieve healthier eating habits.
More