If you're yearning for a tasty, healthy popcorn snack, check out these tips:
Opt for organic popcorn (if you can find it) to avoid genetically modified corn.
Prepare the popcorn in an air popper that uses heat, not oil (and we mean NONE! NADA! NYET!), to fluff up the crunchy kernels.
Flavor your popcorn with healthful seasonings, such as garlic (helps to reduce the risk of some cancers and control blood pressure), cinnamon (stabilizes blood sugar), hot paprika and red pepper flakes (may ease joint pain), curry (blocks Alzheimer's disease and stomach problems), and fresh basil (it just tastes so good!). Your imagination is the only limit to the fat-fee, sugar-free, health-bestowing flavors you can enjoy with this delicious, healthy snack.
Everyone's favorite movie snack is typically swimming in butter and salt, but it doesn't have to be that way. In this video, celebrity chef and Dr. Oz Show guest Gail Simmons demonstrates how to make a sweet and salty popcorn treat that's nutritious and delicious.
Continue Learning about Eating Habits and Nutrition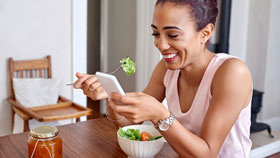 Three meals a day or five? That's only one aspect of the behavior known as eating habits. There is also the matter of style. Do you plan your meals or eat on the run - do you eat when you are happy, sad, or stressed - these are ot...
hers. Recognizing your eating style can help you work to achieve healthier eating habits.
More