Here are some tricks to help your family keep from overeating. Purchase small dinner plates. Portions look bigger on smaller plates. Plate food at the stove and bring the plates to the table. This way you can control the serving size. When you put serving platters on the table, you are encouraging seconds. You are also encouraging picking at the food because it is on the table in plain view. This can be tempting your family to keep eating. If you buy food in bulk, break it down into small portions. Bag up nuts, pretzels, and dried fruit into calorie controlled portion sizes. Always clear the able right when people are done eating.
Here's how to ease anxiety, stop overeating and lose excess pounds:
Make time for family meals. Sit down together for 30 minutes. It soothes the soul and upgrades the diet.
Plan menus four days in advance. You'll control less-than-healthy impulse purchases. Get the children involved in shopping and cooking, too. They'll want to eat what they prepare!
Schedule family exercise time. Walk (10,000 steps a day), play ball, or garden. Do as much as you and the kids can fit into a day. Turn off the TV and computers!
One week's worth of family meals and activities can transform you all, brighten your outlook and increase your feelings of self-control. When that happens, you'll shed pounds -- and stress.
Continue Learning about Eating Habits and Nutrition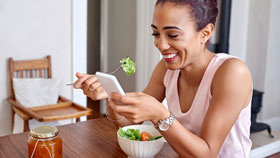 Three meals a day or five? That's only one aspect of the behavior known as eating habits. There is also the matter of style. Do you plan your meals or eat on the run - do you eat when you are happy, sad, or stressed - these are ot...
hers. Recognizing your eating style can help you work to achieve healthier eating habits.
More