Eating junk food -- macaroni and cheese, chocolate chip cookies, fried chicken, ice cream -- can make us feel better for a few minutes, until the negative mood swings back into action. That's often a result of the way certain foods raise and lower blood sugar or disrupt our bodily systems in other ways. Eating too much of one type of food or not enough of a certain nutrient can have both short- and long-term effects on mood.
Continue Learning about Eating Habits and Nutrition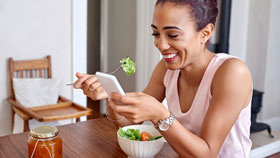 Three meals a day or five? That's only one aspect of the behavior known as eating habits. There is also the matter of style. Do you plan your meals or eat on the run - do you eat when you are happy, sad, or stressed - these are ot...
hers. Recognizing your eating style can help you work to achieve healthier eating habits.
More