An easy answer is to always include fruit in your breakfast and your one to two snacks daily. Even better, always use fruit in your entrée as well. Some great pairings with fruit include?
Grilled shrimp and watermelon skewers
Grilled or roasted chicken and peach slices
A chicken stir fry with chunks of plums
A veggie burger and apricot salsa
Grilled fish and mango slices
Chicken salad with cranberries
Spinach and goat cheese salad and grapes
Because most fruits have only thirty-five to sixty calories a serving, they are low-cal alternatives to cookies or candy. Dried fruits contain considerably more calories per mouthful, so be careful not to overindulge. If you are tired of common fruits such as apples, oranges, and bananas, then diversify. Buy exotic or seasonal fruits. I find it easier to have bite-size fruit -- grapes, cherries, or small plums -- to munch on. I keep a big fruit bowl in my office. That way, I can grab a piece when I feel hungry, and everyone else in my department can grab a piece, too.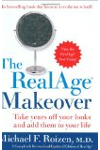 Continue Learning about Eating Habits and Nutrition