Considering that most of the serotonin (a chemical our brain uses for good mood) is made in the enterochromaffin cells of our intestines, it stands to reason that healthy food can help maintain a healthy digestive tract that will help balance mood. Healthy food translates to lower inflammation in the intestines and in the brain. Inflammation in the brain is known to be a factor in depression.

A few years back, a team of researchers in Spain found a strong correlation between the Mediterranean Diet and lower rates of anxiety and depression. In depression, parts the brain associated with low mood are often full of inflammation. Multiple studies on mood have showed the benefit of anti-inflammatory foods such as fish oil, which has omega-3 fats, and olive oil, which contains omega-9 fats.
Continue Learning about Eating Habits and Nutrition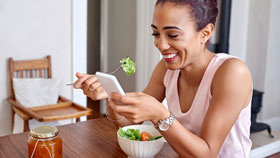 Three meals a day or five? That's only one aspect of the behavior known as eating habits. There is also the matter of style. Do you plan your meals or eat on the run - do you eat when you are happy, sad, or stressed - these are ot...
hers. Recognizing your eating style can help you work to achieve healthier eating habits.
More