Grains are not the enemy. The problem is that we overeat them because we serve ourselves too much. Did you know that 1 cup of cooked rice has about 230 calories or more? When you go out to eat, they easily serve you 2 to 2.5 cups of rice. One serving of rice is considered 1/2 cup. Next time you cook rice, or any grains for that matter (including pasta), take out a measuring cup and see how much you are serving yourself. Cut back on how much you put on your plate, and fill the empty space with more vegetables. This will save you the extra calories and will also increase your fiber intake, giving you the sensation of feeling full.
Continue Learning about Eating Habits and Nutrition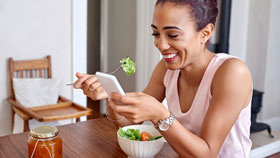 Three meals a day or five? That's only one aspect of the behavior known as eating habits. There is also the matter of style. Do you plan your meals or eat on the run - do you eat when you are happy, sad, or stressed - these are ot...
hers. Recognizing your eating style can help you work to achieve healthier eating habits.
More