Studies show that whenever you eat with other people, you lose track of how much you're eating. For instance, if you eat with just one other person, you're likely to eat about 35% more than you normally would. When you eat with four people, your consumption rate jumps to 75% more. And when eating with a group of seven or more, you eat about 96% more than if you were eating alone.
Important food for thought: The average person eats out with a group about three times a week. This means that if you're not cautious, you can consume 72,000 extra calories over the course of a year, which translates into about 20 pounds of weight gain.
This content originally appeared on
doctoroz.com
Continue Learning about Eating Habits and Nutrition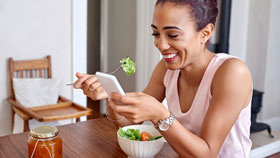 Three meals a day or five? That's only one aspect of the behavior known as eating habits. There is also the matter of style. Do you plan your meals or eat on the run - do you eat when you are happy, sad, or stressed - these are ot...
hers. Recognizing your eating style can help you work to achieve healthier eating habits.
More