All calories count. Mindless eating can lead to extra calories that lead to weight gain. If you are not aware of when you are eating, you will be less likely to be able to control your weight. Awareness is the key to success in controlling your weight. You need to focus on eating, feeling full and then stop. This helps you know when you are full. It also helps you know when you are hungry. Distracted eating is often continual. You never really get full so you just keep grazing.
Continue Learning about Eating Habits and Nutrition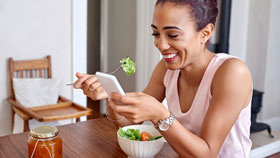 Three meals a day or five? That's only one aspect of the behavior known as eating habits. There is also the matter of style. Do you plan your meals or eat on the run - do you eat when you are happy, sad, or stressed - these are ot...
hers. Recognizing your eating style can help you work to achieve healthier eating habits.
More