Smart snacking choices are critical to overall health. In this video, "Hungry Girl" author Lisa Lillien explains her favorite way to avoid diet mistakes when busy.
You may feel like a surgical resident in your busy life, grabbing a quick bite whenever it fits into your day, and you may feel too tired to make a healthy meal after you get home. Here are tips for planning ahead to eat well:
Keep it simple. We all love the 20-ingredient, multi-flavor, succulent dishes. Unfortunately these usually require immense prep time. Reserve these luxuries for the weekends, and keep your mid-week food simple and stress free.
Avoid any food that is not a primary color. Plants and animals grow in primary colors, while processed foods can come in any color imaginable.
Eat stand-alone foods. To know exactly what you are eating, eat foods that stand alone. It is hard to know exactly what is in a casserole or cream soup, etc. On the other hand, if you are eating a pile of green beans, you know you are eating a pile of green beans.
Keep healthy snacks in your desk or purse. You are more likely to avoid running to the vending machine if you have a little something near at hand to kill those afternoon cravings.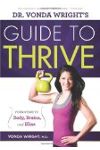 Choosing recipes that are easy with simple ingredients will help save time in the kitchen. Before heading to the grocery store, write out a meal plan for the week with needed ingredients. Upon returning home, wash and pre-chop any staple items like meat or veggies. This will make it easier to simply combine and cook meals during the week. Other helpful savers include making a list of easy family favorites, or making bulk items like rice and beans and storing or freezing for later. Involve the whole family from planning meals to serving meals—share the responsibility as it is a great teaching moment as well.
Busy schedules can sometimes make it difficult to make wise food choices. Proper nutrition is a key component of any strategy to live healthier. Keep these guidelines in mind when planning your meals:
Eat three meals a day. Meals should consist primarily of fruits, vegetables and whole grains. Choose lean meats, poultry, fish, beans, eggs and nuts.
Control portion sizes. Take time to enjoy smaller amounts of food.
Limit foods high in salt, saturated fat, trans fat, cholesterol and added sugar.
If you drink alcohol, drink it in moderation.
Stay hydrated by drinking enough water.
Trinity Health is a Catholic health care organization that acts in accordance with the Catholic tradition and does not condone or support all practices covered in this site. In case of emergency call 911. This site is educational and not a substitute for professional medical advice, always seek the advice of a qualified health care provider.
Continue Learning about Eating Habits and Nutrition